A reflection from June 2021
For me, I always like to have a favourite tennis player. Someone above all others I root for, feel exhilarated when they win and crushed when they lose. My first tennis crush was Steffi Graf. I can still remember how genuinely upset I was when she lost to Lori McNeil in round 1 of Wimbledon 1993. Justine Henin was my next favourite and the first I, as an adult, put up a picture on my wall. A rather beautiful photo of her stylish one handed backhand. Henin's premature retirement in 2009 was like being dumped out of the blue! What…? Erm, I don't get it… WHY!? I briefly dipped into being an Elena Dementieva fan which might have prepared me for the ups and downs to come for my devotion to my One True Tennis Love, the wonderful Petra Kvitova. I think it was her Wimbledon 2011 run that hooked me, and seeing that beautiful flowing game. Who could have known the roller coaster ride that was to come!
It is now 10 years of Kvitova fandom for me. I have the pictures on my wall, I had some Petra mugs made, created my own Petra calendar. I have managed to see her play in the flesh 4 times – and she's won every time.
Being a Petra fan is definitely a roller coaster, but I feel very emotionally invested when I watch Petra play. I've taken to placing small bets on her opponents so that if she loses, at least I make money as consolation. It probably says a lot that I've not had to add any cash to my online account in many years! It hasn't drawn me to dicey dealings though, my usual bets are 20p and I always have some faith and put 50p on Petra to win every slam.
Which brings me to Barbora Krejcikova and how the last few months have turned me into a fan. Don't get me wrong, Petra is still my favourite but I know she is in the latter part of her career. (Although hopefully another 2 or 3 years minimum!)
I have a few other players I like but none have quite captured my affection like Krejcikova. Of course I knew her name as one half of the young Czech doubles team that did very well. She was the one WITHOUT the fabulous hair! Krejcikova is not a loud or eye catching player in the way some are. I did actually see her play live in Birmingham 2018 when she and Siniakova had just won the Roland Garros title and would go on to win Wimbledon a few weeks later. They were playing Babos and Mladenovic and I remember how kind of scruffy the Czechs were, in what looked like practice gear and leggings while Kiki Mladenovic was pristine and stylish as always. Babos and Mladenovic yelled more and had a noisy support – Kiki's mother was entertainingly rowdy!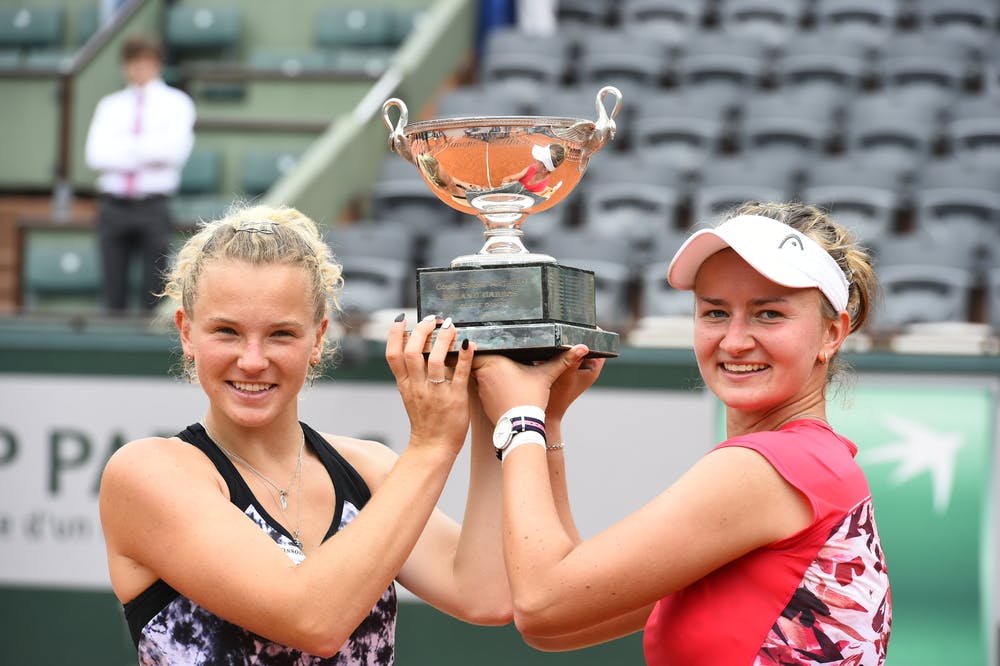 As a fan of several Czech players – Strycova, Safarova then later Muchova, I was aware of Krejcikova but only as the non-follically blessed half of that double pairing.
Then the COVID19 crisis hit in 2020. Tennis, like the rest of the world, stopped. I began a daily 'I miss Petra' Twitter posting routine with clips and photos, before news of a Czech tournament in May 2020 broke. Petra played this doubles player Krejcikova… damn she's pretty good! I think that streamed YouTube video with a fixed camera at one end of the court is the first time I saw Krejcikova play singles. It was clear she stroked the ball around well and Petra had to work pretty hard to beat her. However she missed enough that I wasn't a total convert. Plus I always always want Petra to win.
It was when tennis started up again that Krejcikova seemed to be a new player! The Prague open in August saw her give Simona Halep quite a scare, taking the first set and really hitting out. Then at the rescheduled 2020 Roland Garros where my beloved Petra made the semi finals (and had probably her best ever chance to win it) Krejcikova also had a great tournament, making the 4th round beating Strycova and Pironkova before falling to Podoroska who would go on to reach the semi finals.
The rise of Barbora was on! I remember watching her play Azarenka In the Ostrava tournament in October and this might have been the moment I really started paying attention. (Just checked my Twitter 21.10.20 'wow, Krejcikova really is in the zone today' after she won the first set 6-2) In the first set she was playing like Petra! Amazing timing on her shots and Vika was bamboozled. She also took a set off the red hot Aryna Sabalenka the next tournament in Linz, but the big breakthrough came in Dubai. Unlike with Petra, I wasn't watching all of her matches on the edge of my seat, biting my fingernails. I had a new player to support that I liked and rooted for, but every loss didn't cut me til I bled. I loved her coolness in a late night match with a slightly unhinged Maria Sakkari and was delighted to see her make the final to play Muguruza. Garbine is one of my 'quite like them' players and she had just been demolished by Petra in Doha the week before, so I was feeling charitable towards her. Garbine was THE form player and I hoped Barbora wouldn't be embarrassed… she wasn't! Krejcikova put up a great fight and while it was straight sets, the match was the best part of 2 hours as Barbora battled really hard. It was obvious she was a singles player to stay now. She had moved up into my next tier favourites. One of my tennis Twitter friends is an enormous Czech tennis fan and I'd got involved in a few lengthy chats about all the Czech girls that had me keeping an eye on all their results.
Petra had a tricky spring with tough losses to Svitolina when she was playing really well and lost to Ash Barty in the Madrid QF. Coincidentally Krejcikova and Siniaková were having a good run in the doubles and I ended up watching a lot of their matches as they took the doubles title. Go Bara, go Kat! The lead up to Roland Garros saw Siniakova have some good results – including a win over Serena Williams – while Krejcikova beat Kenin in Rome and should have beaten Swiatek, having 2 match points but showing some bad nerves. Yes, just like Petra, Barbora ALSO sometimes puts her fans through the wringer! When she finally won her first WTA tournament in Strasbourg the following week, I counted myself fully as a Krejcikova fan, biting my nails and yelling at inopportune double faults when she was serving for the title! Krejcikova has a knack of making it look like she's not doing much. Unlike Petra's pretty spectacular, all or nothing game, Barbora CAN hit big or she can play cagey. She can serve hugely or roll in snails pace serves. She isn't Radwanska playing tricky shots or Sabalenka hitting you off the court. She doesn't 'POJD!' like Petra and her doubles partner Siniaková is the demonstrative and emotional one. Barbora is calm, measured but smart. Yes she can mutter to herself – she's not Elena Rybakina (whose game I love and her emotionless demeanour is actually quite endearing) but she's not very expressive. Few smiles, a few shouts, just business which can make people underestimate her. Krejcikova makes the game look effortless and that is what I've grown to love watching. You think she's not doing much but her point construction over the course of her run to the Roland Garros title was masterful.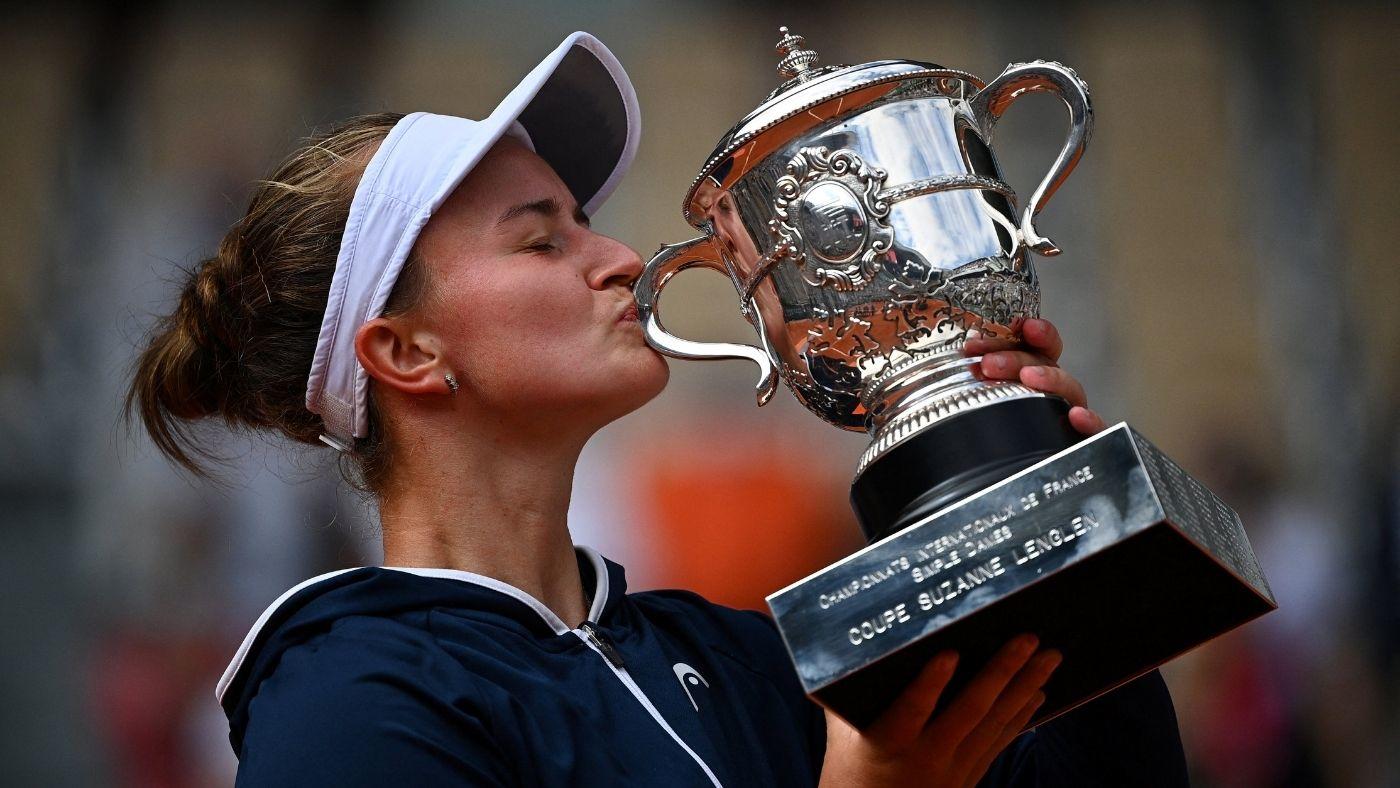 Ah yes, Roland Garros 2021. She won it. Singles and doubles, yes. Huh? Yes really! It is the last day of RG 2021 as I write this and Krejcikova won the singles yesterday and the doubles title today. I suspect in months and years to come, some might think it was a shitshow of a slam! This was the one Naomi Osaka pulled out after declaring she wouldn't do press as it gave her anxiety and the tournament threatened her so she pulled out. Then Petra slipped coming out of a tv interview and had to pull out with a sprained ankle. Defending champion Ash Barty pulled out with a back injury, Simona Halep didn't even start after a calf muscle tear in Rome…
With Petra out (and she'd saved a match point to win her first round too… *sigh*) I kept an eye on my new fave Krejcikova but having come straight from Strasbourg I didn't give her too much hope to go that far. Her section of the draw had Iga Swiatek, the new red hot favourite after Barty pulled out and someone Barbora had lost to twice in the last few months. When Iga was beaten by sporadically brilliant Maria Sakkari, she of the amazing shoulders and superb bun, things really opened up. Barbora had avenged Petra by beating Svitolina very easily, then took out the resurgent Sloane Stephens who had beaten Carla Suarez Navarro, back after cancer treatment, then 2 Czechs – Karolina Pliskova and Karolina Muchova. (Side note: I still think Sloane is one of the most talented players I've seen at her best, but her highs and lows are even more extreme than Petra's! Still, she is class so I was not unhappy to see her form return a bit in 2021)
What was remarkable is that Krejcikova was pretty much the underdog in every match as she beat young phenom Coco Gauff then Sakkari before a highly accomplished win over Pavyulchenkova in the final. Now she was winning, she was getting to do on court interviews. Barbora revealed herself to be very likeable and constantly referenced her former coach, the late Jana Novotna. For tennis fans of a certain age, Novotna will always have a special place in our hearts and her tragically early death in 2017 at the age of 49 was incredibly sad.
I do remember the news reports about the connection Krejcikova had with Novotna when she won the doubles at Wimbledon in 2018 but Barbora talked about her a lot this week – it definitely gave the headline writers something to focus on! Otherwise tennis players can be quite dull people.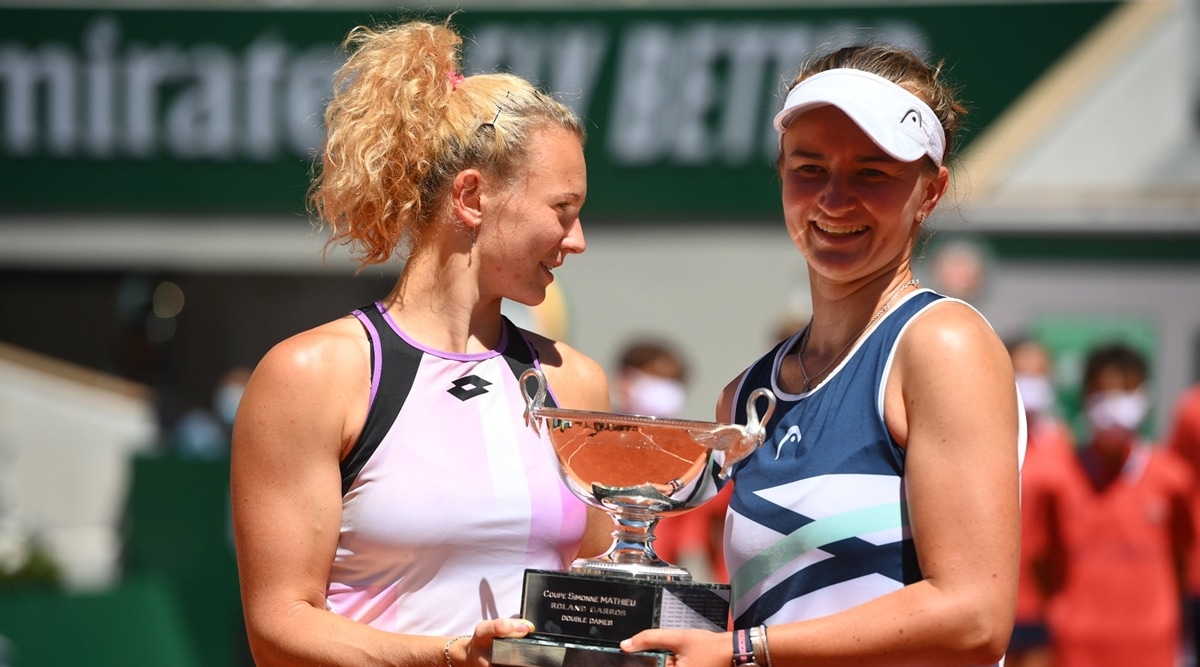 It is now a few weeks later and Wimbledon is about to start in a week or so's time. My beloved Petra is playing in Germany – Bad Homburg (yep) in a lower level tournament where she is top seed. Yesterday she scraped through against someone ranked about 300 but most worryingly, she looked uncomfortable on her taped up ankle. For a tennis player, if they can't move comfortably, they can't win (unless they are Serena) and it's been 3 weeks since the freak accident that injured Petra's ankle. Clearly it was a nasty sprain and I am doubtful she will go deep at Wimbledon moving and playing as she did.
So I might be following Krejcikova again as my main player! She's having a well deserved break after the Roland Garros heroics – although interestingly, her doubles partner, the hair-tastic Siniakova had a great win today.
Krejcikova has never even been in the main draw at Wimbledon and I'm not expecting her to win, but she is a doubles champ there so won't be overawed. With the Novotna connection I think she will get quite a bit of attention here in the uk come Wimbledon.